Why Enroll in Summer Session?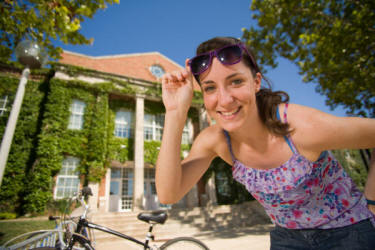 "It's been a long year!  I'm tired.  I just want to go home, get a nice day job, and spend the evening with my friends." – You
We've thought about the Top Ten Reasons why Summer Session is an excellent choice for Truman students, and why you should think twice about missing Summer Session.
#10 With online classes, you can learn from home and keep a summer job.
There are over 80 different sections of online and blended classes offered as part of the May Interim and Summer Sessions.  You have lots of options to choose from at different lengths and in different subjects.  You can take classes in numerous majors, complete your JINS course, or complete LSP requirements – all while having the time to earn extra cash and save money while living at home.  If you choose to stay in Kirksville – or if you are from the Northeast Missouri area – there are still plenty of on-ground classes this summer, too.
#9 Courses are offered at different lengths to meet your needs.
Did you know that you can take Summer classes in periods as short as 3 weeks?  The shorter May Interim, the two 5-week sessions, and the 8-week session, afford students maximum flexibility to meet their scheduling needs.  Many common courses, such as public speaking, statistics, various history courses, and foreign languages, can be fulfilled with offerings in more than one session, or sequenced to complete two back-to-back requirements in 10 weeks.
#8 That coveted spot in a high demand class can be yours during the summer.
Let's face it – sometimes we can't get into that required class when we want it during the year.  There might be a conflict with another requirement, or simply a matter of bad timing.  Some common courses required for certain programs are routinely offered each summer, and competition for seats isn't nearly as intense.
#7 You can stay on track to graduate on schedule – or even ahead of schedule.
You need at least 120 credits to graduate.  If you plan ahead, and maintain a steady course load of 15-16 credits each semester, graduating in four years is easily achievable.  However, things happen:  you get a great study abroad or internship opportunity, you drop a class that needs to be replaced, or simply need a lighter semester to focus on a challenging class.  Taking a class or two during the summer can put you back on track.
#6 Online classes can help you make time for a great summer vacation!
Whether it's online or on-ground, the convenient schedule of Truman's interim and summer courses make it possible to find time to relax.  By selecting courses in any of our shortened-terms, there will always be a few weeks left over to travel, or just relax at home.
#5 You can gain that extra edge to add another major or minor.
Truman students are driven to study a variety of topics, and nowhere is the double-major phenomenon more readily visible than Truman.  A summer course or two each year can help you add a minor with no delay, or put you well on the way to completing another major.
#4 Summer is a great time to focus attention on challenging courses.
Worried about Calculus?  Organic Chemistry?  Intermediate Spanish?  Do you know you'll need more time to write papers for a JINS class?  While summer courses are accelerated, many students schedule their summer classes to focus on that SINGLE COURSE that keeps them awake at night.  That's a kind of focus you can't typically get during a regular semester.
#3  If you take two courses, the third one is

free

!
If you take six credit hours at the regular tuition rate, credit hours seven through nine are free!  Online or other special courses fees may apply, but your savings could add up to almost $1000 if you are an in-state student, or much more if you're from out-of-state.
#2 Summer classes can boost your Truman GPA for scholarship renewal.
Truman students work hard, and sometimes your GPA drops lower than you'd like because you had a rough semester.  Your Truman GPA is used to determine your eligibility for scholarship renewal.  If an extra class or two can boost your GPA, a lost scholarship might be reinstated.  You can't get that by transferring classes from another college!
#1 It's Truman quality – whether in the classroom or online.
When you came to Truman, you picked it for a reason.  It wasn't for the Big 12 athletic program, or the convenient proximity to great skiing, or the reputation of the campus as a "party school."  While the great financial aid packages, beautiful campus, and loads of activities were probably a part of your decision, chances are the challenge, the quality of learning, and the reputation of the academic program made a huge difference.  It might be easy to take a summer class at a college down the road, and transfer it back to Truman.  But do you feel as strongly about those credits as you do the ones you take here in Kirksville?  Quality matters.